Tea tree oil is an effective alternative remedy for treating fleas on your dog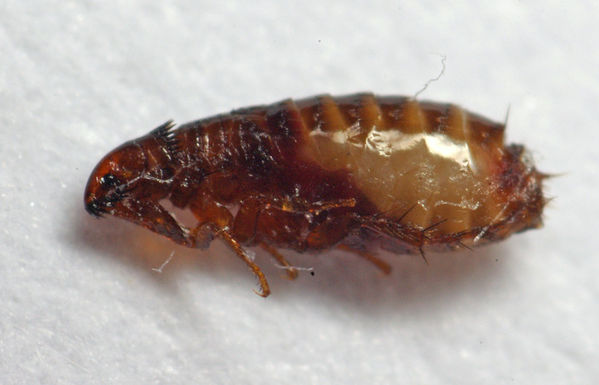 Does your dog constantly scratch because of a flea infestation? Over the counter flea treatments are usually quite expensive, and unless applied regularly the flea problem can occur time and time again.
These chemical treatments can sometimes be harmful to the dog's skin, and can even be a cause for concern for small children and other pets in your home.
Tea tree oil is a much more natural approach to treating fleas on your dog.
Tea tree oil shampoo will help rid fleas
One way of eliminating fleas from your dog's coat is by using a tea tree oil shampoo. You can buy these from your local pet store or supermarket, but you can also make your own - here's how:-
Add 4-5 drops of tea tree oil to your regular dog shampoo.
Shampoo your dog's coat really well, reaching down past any fluffy fur right down to the skin. (Sometimes it's a good idea to have your dog's coat clipped first).
Some fleas may come away from your dog's coat immediately, as they don't like the smell.
Repeat this method daily for a week or so until no more fleas remain on your dog.
Using tea tree oil spray for fleas on dogs
You can use tea tree oil as a flea repellent, as well as treating any current flea infestations. Here's how to make your own tea tree oil spray:-
Add 1 teaspoon of tea tree oil into 1 cup of warm water.
Stir well to combine.
Pour mixture into a clean spray bottle.
Take your dog outside, and spray your pet's entire coat with the tea tree oil spray.
Repeat this process for the next 4-5 days until fleas have disappeared.
Will tea tree oil work on dogs to kill fleas?
Tea tree oil is effective in treating fleas because the insects do not like the smell of the oil, and will do their best to remove themselves from the smell if applied to the dog's coat.
Tea tree oil contains antibacterial and antiseptic properties, so if your dog has an allergic skin reaction to fleas, tea tree oil can provide soothing relief for your pet pooch.
Caution about using tea tree oil to remove fleas from your dog
Tea tree oil should never be ingested, and should always be diluted with water or combined with another substance – such as shampoo – before applying to your dog's coat. If the oil is applied straight without any dilution it can be irritating to your dog's skin.
If you experience any problems using tea tree oil on your dog, consult with your vet immediately.
Do you want to know what else tea tree oil is good for?