If you're plagued by a dry, itchy scalp – try tea tree oil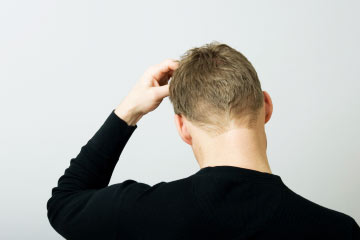 If you're chemical-conscious when it comes to what you put in or on your body, then tea tree oil might just be an effective remedy for your dry, itchy scalp.
Tea tree oil has been used for thousands of years as an antiseptic, antibiotic and antifungal treatment – and the best thing is it's all natural.
How does tea tree oil help an itchy scalp?
When it comes to common scalp problems, tea tree oil has been proven to provide relief from dry, itching skin. The following conditions can most likely be treated using tea tree oil:-
hair loss
dry skin
dandruff
head lice
In shampoo form, tea tree oil can unclog hair follicles and help clear up any bacterial or fungal infections on the scalp.
You can make your own tea tree oil shampoo, or you can search online or browse through your local health food store or supermarket for a shampoo that contains tea tree oil.
Studies have shown that a shampoo containing only 5% tea tree oil will help provide relief from the dryness and itchiness of a nasty scalp condition.
What is scalp fungus?
Dry scalp is one of the most frustrating hair problems experienced by individuals today. It is usually caused by a fungal infection on the skin's surface, due to a build up of dirt and dead skin cells clogging the hair follicles. Common symptoms of a scalp fungus condition include:-
redness
itchiness
flakiness
There are so many chemical treatments on the market, but do they really work? And even if they do... what about the effects these chemicals are having on your body?
Using tea tree oil to treat scalp fungus
Tea tree oil will moisturize the hair and keep the scalp free of any bacterial or fungal infections. It also helps to remove any dead skin or dirt on the scalp – even promoting a positive environment for natural hair growth.
Here's how to get relief from a dry, itchy scalp using tea tree oil:-
Simply take a few drops of tea tree oil onto the tips of your fingers and massage into the scalp. You will feel a cool, tingling sensation instantly as the tea tree oil gets to work.
For best results, cover hair in a shower cap and leave overnight, washing well with a natural shampoo in the morning.
Repeat this process every second day until you notice a considerable change in your dry scalp condition. You can even mix tea tree oil with your regular shampoo for an ongoing preventative treatment.
So where do I find Australian tea tree oil?
Tea tree oil comes from the leaves of an Australian tree called the Melaleuca alternifolia and has been used for thousands of years by the native people of Australia - read about the history of tea tree oil here.
The oil comes in a variety of forms to help aid many conditions, such as shampoos, gels, creams, lotions, toothpastes, mouthwashes and ointments.
Tea tree oil should never be taken orally.
Cautions for using tea tree oil on the scalp
Tea tree oil can cause an allergic reaction in some people, so it's always a good idea to test a small area of the scalp as a precaution. Allergic reactions can range from mild irritation and discomfort to severe redness, blistering and itching. If you do suffer an allergic reaction to tea tree oil on the scalp, please see your medical health practitioner as a matter of urgency.