Are you embarrassed by toenail fungus?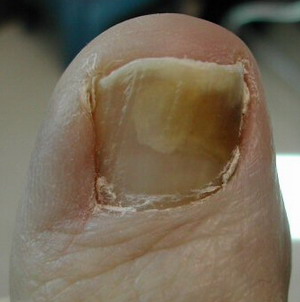 What is toenail fungus?
Toenail fungus infections are the most common disease of the nails, occuring in approx. 14% of the adult population. Also known as onychomycosis or tinea unguium, the infection will usually appear as a discoloration and thickening of the toenail, causing the nail to become brittle and crumble.
Distortion of the toenail's shape can also occur, and with such a high percentage of people contracting this ugly, painful condition, it's important to understand the causes behind toenail fungus.
How do you get toenail fungus?
The fungi that causes this uncomfortable medical condition thrives in damp, moist environments. Swimming pools, saunas and showers are all common places where this smelly toe condition can be contracted. When using public facilites, it's very important not to go barefoot, as the bacteria behind toenail fungus can gain entry into your toenails through any minor lesions or abrasions on the skin's surface.
What causes toenail fungus infections?
Microscopic organisms known as fungi don't require sunlight to survive. A particular group of fungi called dermatophytes (such as Candida) are usually responsible for toenail fungal infections, however some molds and yeasts can also cause this unhealthy condition.
Who gets nail fungus infections?
Toenail fungus infections are more common in men and older adults. Other factors that raise a person's risk of contracting this painful condition are:-
Heavy perspiration
Wearing socks and shoes that prevent ventilation
Working in a humid or moist environment
Walking barefoot in damp public facilites, such as swimming pools, gyms, saunas)
Tight footwear
Previous injury or toenail infection
Family history of fungal infection
Slow growing nails
Weakened immune system
Symptoms of toenail fungus
One of the first symptoms that usually appears is a small white or yellow dot underneath the toenail. Typically the fungus will then invade deeper into the toenail, causing the nail to become crumbly, painful and unsightly.
In some cases, the infected toenail may acutally separate from the nail bed resulting in painful toes, and a smelly odor may also be present.
Another symptom that is associated with a toenail fungus infection is dermatophytids. This is a fungus-free skin lesion that may occur in an area of the body not affected by the fungus... similar to an allergic reaction.
How to use tea tree oil for toenail fungus
Studies have shown that a topical application of tea tree oil to a toenail fungus infection will help fight this nasty, smelly condition.
Tea tree oil is a natural antiseptic, containing anti-fungal compounds that disinfect toenails and skin quite effectively.
How to treat toenail fungus with tea tree oil
Tea tree oil is nature's cure for toenail fungus - here are some step-by-step instructions of how to rid your feet of this painful medical condition:-
Wash your feet and dry thoroughly.
Apply tea tree oil on the affected toenail, rubbing in thoroughly.
Apply treatment two or three times daily.
Continue this remedy until the nail has completely grown out. In some cases this can mean 6-12 months for toenails. Always use 100% pure tea tree oil.